Sorry, we've had to temporarily disable our translation script due to a malware problem. We hope to have it back soon, and in the meanwhile, if you view this page in Chrome, Google will translate it for you.
How Can We Help You Be More Frugal or Have More Fun?
280 Pages of Great Frugal Fun Advice, Instantly in your Inbox, for Just US $8.50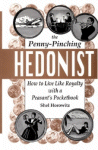 This acclaimed full-length e-book shows how to travel, dine out, entertain, keep your kids busy, have fun with someone special, and shop far more cheaply than you would have believed is possible. Most people will save between $500 and $2000 every year with the tips in this book.
Search the Site: Find What You're Looking For
Search the 1,500+ pages at FrugalFun.com and its sister domains

Books from Shel Horowitz, Award-Winning Author, Speaker, Consultant, Ethical Marketing Expert
Click any book cover to get more details and ordering information.
More Information and Services from Shel Horowitz
Note: Some of these links take you to our many sister sites, such as FrugalMarketing.com and PainlessGreenBook.com
Share this article/site with a Friend

The Literacy Site
The Literacy Site offers a way to share the magic of books and promote the love of reading among children who might otherwise never discover the joy of their first book.
Your click on the red "Fund Books For Kids" button at The Literacy Site generates books for children in need, funded by site sponsors and provided through charity partner, First Book. First Book has distributed more than 40 million books to children in hundreds of communities.
Money Exchange Saving Tips
If you are sending or receiving money from abroad, FrugalFun recommends sidestepping your bank and using commercial foreign exchange firms. Lower fees, better rates, and personalized service. Find international money transfer options here.
Disclosures of Material Connections:
Some of the links on our site and items in our newsletters are sponsored ads or affiliate links. This financial support allows us to bring you the consistent high quality of information and constant flow of new content. Please thank our advertisers if you do business with them.
As is the case for most professional reviewers, many of the books I review on this site have been provided by the publisher or author, at no cost to me. I've also reviewed books that I bought, because they were worthy of your time. And I've also received dozens of review copies at no charge that do not get reviewed, either because they are not worthy or because they don't meet the subject criteria for this column, or simply because I haven't gotten around to them yet, since I only review one book per month. I have far more books in my office than I will ever read, and the receipt of a free book does not affect my review.