Shel Horowitz
Shel was still a teenager when he started doing publicity and marketing for grass-roots community organizations with zero promotional budget. There wasn't even money available for stamps, so he used to hand-deliver press releases on a three-speed bicycle, Trained as a journalist, he first became aware of the power of the news media when a local paper refused to print meeting notices he wrote for a controversial group--but gave extensive news coverage to its refusal. Now, for over twenty years, he's helped businesses, nonprofits, and community groups get their message out to the public with little or no expenditure.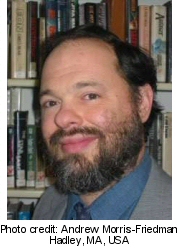 After finishing Antioch College at age 19, Shel had to come to terms with his own work history: career paths not only in writing, but also in radio, teaching, arts, food service, office systems, community organizing, and environmental issues. To complicate the picture, most of his jobs had been for very short periods of time, because of Antioch's 3-month internship rotation program. Making sense of this hodge-podge and putting together his own first résumés led to a new career direction: résuméwriting and career services. Shel quickly realized he had the ability to discover a job candidate's best strengths and present them so those are highlighted while weaknesses are downplayed. In short, he turned résumé writing into a marketing function.
A native of New York City, he returned to that city to work at two literary agencies as a manuscript reader, and then worked for a year and a half as a VISTA Volunteer community organizer with the Gray Panthers. Pursuing poetry on the side, he became very active in the New York open poetry scene, and met Dina Friedman at an open reading in Greenwich Village.
The two left New York in 1980, spending a year in Philadelphia before settling in Western Massachusetts in 1981--and founding Accurate Writing & More with an initial marketing cost of $12 and a total start-up under $200 (most of it for a 13-year-old IBM Selectric typewriter). They married two years later. Daughter Alana was born in 1987--the same year Dina joined the business--and son Rafael followed in 1992.
Drawing on the marketing he'd practiced in and after college, Shel began marketing his own business locally, and grew it to the largest of its kind in a three-county service area. In 1985, he published the first of three books on low-cost, high-impact marketing. Gradually, he expanded his practice to marketing for other businesses and nonprofits. He began using e-mail as a marketing tool in 1994, set up the first version of the Frugal Fun website in 1996, and quickly developed a reputation internationally as a skilled copywriter and marketing strategist who knows how to stretch a marketing dollar. His client list now includes accounts in Europe, Asia, and all across the U.S.; his books have sold to dozens of countries, and one of them his books have sold to dozens of countries, and have been republished in South Korea, India, Mexico, Italy, and Turkey.
Dina Friedman
Dina graduated from Cornell University with an English degree in 1978, and returned to her home city of New York, where she met Shel a couple of months later. She has taught writing since 1981, at Mount Holyoke College, Holyoke Community College and the University of Massachusetts at Amherst, through Amherst Writers & Artists, and in her private studio. She's also taught public speaking in college and adult education settings.
Her poetry, fiction, and drama have been published in numerous magazines and literary journals, including The Sun, Calyx, Peregrine, Amelia, The Worcester Review, Hurricane Alice, Tsunami, Poetry Motel, Slant, and many others. She's been nominated twice for a Pushcart Prize (once for fiction, once for poetry), and has also won the Reed Smith Prize for fiction, and the Athena Press Pallas Award for drama. She was a semi-finalist in the PEN syndicated fiction contest. Author of several plays and numerous poems and stories, Dina is currently putting the finishing touches on her third novel, Second Chances. She's also published nonfiction in the Washington Post, Worcester Telegram & Gazette, and several Western Massachusetts papers, and was a contributor to the Paddington International Guide to Business Travellers.
After working as a copy editor at Oxford University Press, Dina went into community organizing and social work before joining Accurate Writing & More in 1987.
She continues to specialize in assisting writers to find their voice through supportive teaching and manuscript critiques, and also writes and edits résumés, press releases, brochures, and other materials.
You may visit Dina's website at www.ddinafriedman.com.
Share this article/site with a Friend